By Stacy Porter (ADMIN) | December 26, 2019
Site Improvements on AbleArtist.Org
New upgrades to the dashboard and member registration.
With a continuing goal to make your visit to the Able Artist Foundation a great one, we've recently made changes to improve your experience on the AbleArtist.Org website.

The first improvement is to our application process for members, and the other is to our scholarship code process.
---
The Application Process:
We've added a pending notification for members that have recently submitted applications.
Until we've reviewed and accepted your application, you will see an alert notification when logged in that states the following information:
---
"We've received your application. Please wait 24-48 hours for a response via email. If you do not hear from us after 48 hours, please contact us.
While you wait, check out our resources page and frequently asked questions."
---
This notification will disappear after your application has been accepted (and you will receive an email) or if we need more information from you we'll contact you to update your application.
The Scholarship Code Process
Due to the unpredictability of email providers and ISPs, we cannot always guarantee that our email will reach you 100% of the time. To alleviate this issue, we've now added a new tab to your Dashboard that lists a history of all of the scholarships you've requested.
If you do not receive an email directing how to obtain your scholarship within ten minutes, and it is not hiding in your spam box, simply login to your account, visit your Dashboard (aka My Account) and you'll find information about your scholarships waiting for you if they have been assigned by our system.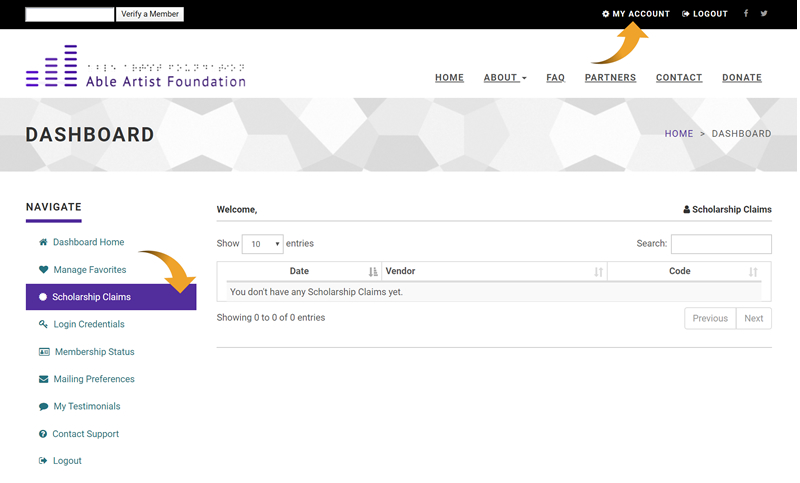 If your scholarship has not appeared in your Dashboard (aka My Account) after requesting it on the vendor's page and it does not appear in your Scholarship Claims, please contact us asap and we'll look into the issue.
---
On another note:
HAPPY NEW YEAR!!!!
We hope 2020 brings you to another amazing level as an artist.